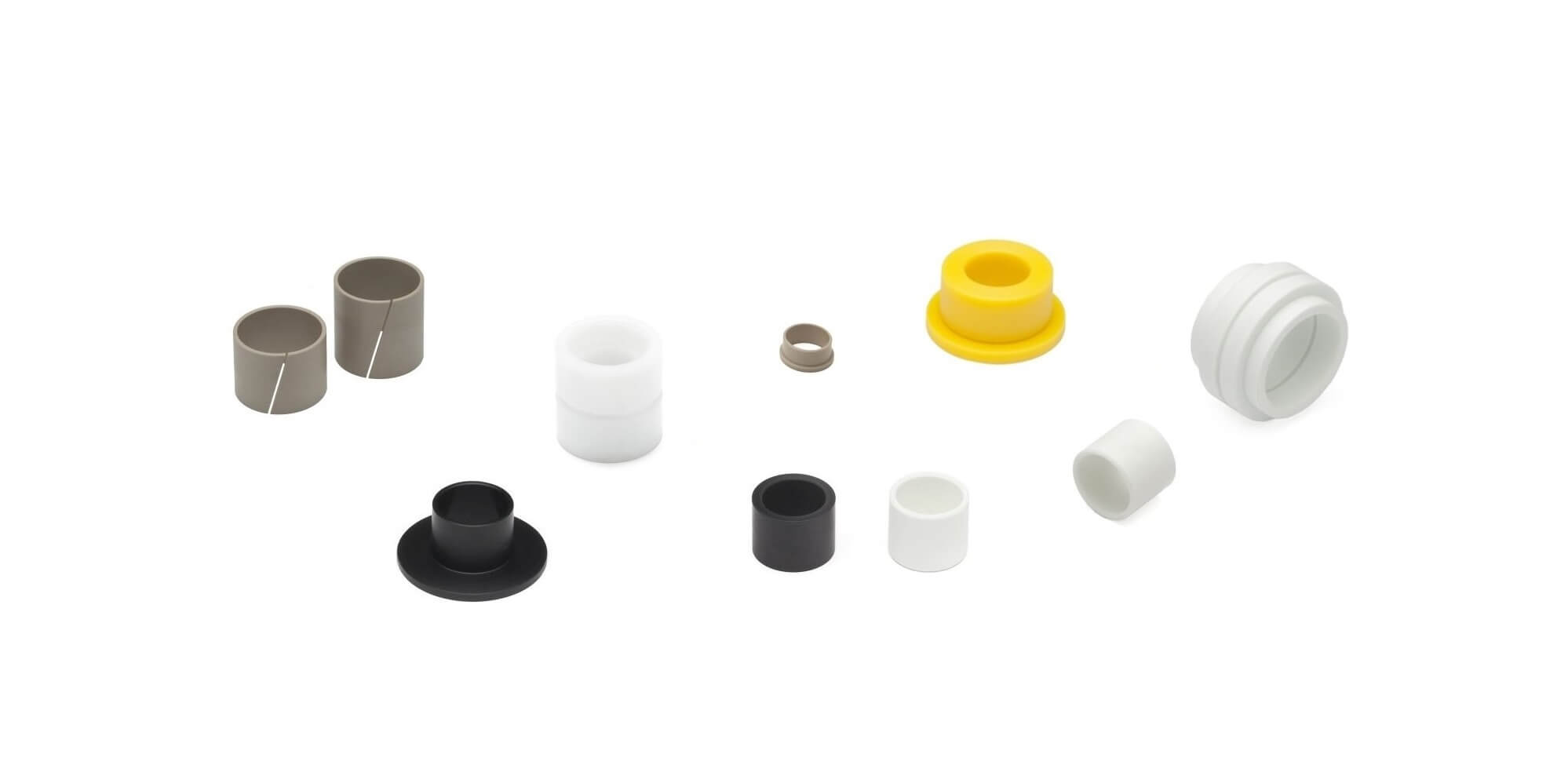 Plastic bushings
Ridderflex has almost thirty years of experience in the production of custom-made plastic bushings. For special applications, but also for conditions where usually metal is applied.
In 90% of the cases, plastic can be used as an alternative material. Plastic is often a better choice; amongst others because of its chemical resistance.
Bushings of plastics versus metal
Bushings of plastic material have a high load and are wear resistant. Metal also has a high load and is wear resistant. As a matter of fact bush bearings, sleeve bearings and sliding bearings can be produced in metal. But why is a bushing of plastic a better choice? We are happy to give you an overview:
Plastic bearing material is often self-lubricating (with metals this is limited, you always need a lubricant);
Our plastic bushings can be produced in a quality with a good chemical resistance;
Our PTFE bushings are food grade products (FDA).
Plastic bushings: in all qualities
Ridderflex produces plastic bushings in any desired plastic. We have many qualities in stock, such as: polyethylene (PE), polypropylene (PP), PVC, polyamides (PA), POM (Delrin ®) and polyurethane. We are also a manufacturer of fluoroplastics. In our compression moulding shop we mould fluoroplastic semi-finished products of PTFE (including additives), TFM, FEP and PCTFE ourselves. Please view our complete plastic range for the available materials.
Ridderflex = customisation
Ridderflex IS customisation. We excel in the production of customised plastic products. We develop and produce essential parts for all industries. Completely custom-made, but also according to industry standards. We can produce plastic bushings according to your specifications, based on a drawing or model. Depending on the version and dimensions, we produce minimum product series.
Question? Enquiry?
We excel in the production of custom-made plastic, rubber and polyurethane products.
Please note! Only Business-to-Business. For new customers we set a minimum order amount of € 2.000,00 ex. VAT and shipping.